About the sanatorium
The multifunctional complex of the Ministry of Finance is located 18 km from the Moscow Ring Road on the expressway M-4 Don.
Beautiful nature, densely planted with fir trees, clean air, excellent conditions for living, high level of service, ecologically clean products of own production, all this opens up excellent opportunities for you for family holidays in the Moscow region.
Multifunctional complex of the Ministry of Finance & ndash; This is a calm and comfortable stay.
You will feel safe here: each room is locked onto an electronic card, our playground is not only the best in the country, but also meets all European safety standards, the center is under round-the-clock security and video surveillance.
For children in the FGBU & quot; IFC Ministry of Finance of Russia & quot; all the conditions for a great, interesting and exciting holiday.
On the 1st floor of the 5th building there is a children's room, where every child will find something to do for himself. Here and a big game labyrinth, which will please the kids with its dry pool, slide and sports equipment. And joint classes with creative tutors (quilling techniques, trimming, appliqué, origami, crafts), painting, music and dance classes and various games are so exciting that usually the kids do not want to leave the game room for hours.
In good weather, your child will be happy to spend time in the children's town with stairs, slides, swings and sports grounds.
In the days of school holidays and on weekends, the entertainment program for children is especially full. «Day of the birthday boy», «Christmas tree», «Circus divertissement», «Jungle name», fun relay races, quizzes, competitive programs, karaoke, watching cartoons and movies, discos will bring great joy to children of different age
Children's recreation includes an extensive sports program. Children are happy to take part in small Olympic Games, relay races, football games, pioneball and volleyball, various tennis and badminton tournaments.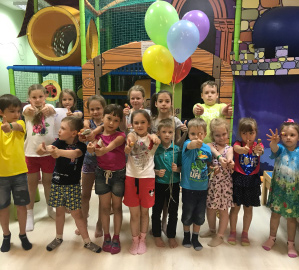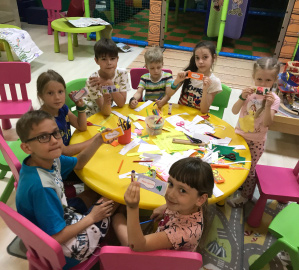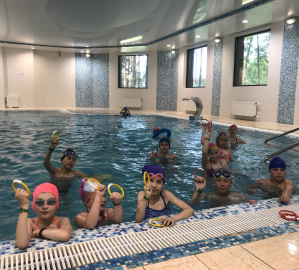 In the fireplace room are musical evenings. The sounds of a violin, piano, guitar will not leave indifferent lovers of beauty.
For our guests, there is a library with an excellent book fund and a fresh press in the fireplace room of the 5th building.
You can take part in theatrical mass events:
pirate Party
Want to feel like a fearless pirate? We will help you prepare a pirate costume, learn a dance and go on an adventurous adventure in search of treasure.
Maslenitsa
We invite you to see off the winter with cheerful buffoons, life-size puppets, contests, songs, round dances, pancakes with hot tea and burning stuffed animals.
The game « Fort Boyard »
If you like thrill, then this game is for you! Pass through various tests, overcome fear, show ingenuity, dexterity, find treasures and win will help you willpower and the right shoulder of a friend
In good weather, our guests enjoy «campfire» around the campfire, where we sing and dance to the accompaniment of the bayan, play various outdoor games, fry sausages on the fire.
Ecological path to the river Rozhayka. A picturesque route through strawberry, strawberry glades and glades with medicinal herbs, through a pine forest will take you to the cool water, where you can refresh yourself and have a picnic.
An experienced teacher will conduct with you a master class on right hemispheric intuitive drawing. Even if you never took a brush in your hands, after attending classes you can write a picture quickly and inspiringly.
Karaoke evenings are held daily, where you can perform your favorite songs. Adults can take part in competitive programs & laquo; And now, girls & raquo; and & laquo; Well, the guys & raquo;